Callow Family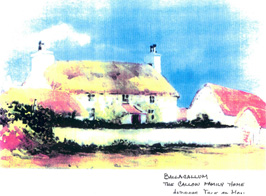 Descendants of ROBERT CALLOW


Generation No.1
ROBERT CALLOW was born Abt. 1630 in Isle Of Man G.B., and died March 1, 1692 Maughold. He married MARGARET CHRISTIAN Unknown in Isle of Man.
Child:
1) Robert Callow 1657-1716 m Joney Corkill
2) Edmond Callow 1659-1732 m Jane Corkill This couple were the founders of the Cardle Veg Callow line. Robert Callow left a will E 1732 not transcribed on Brian Lawson's site and Margaret Lace Callow left a will A 1771 which is transcribed.
3) John chr. 1662 Maughold
3) Molly (no record except in will)
4) Catherine (no record except in will)
5) Ann (no record except in will)
6) Elizabeth (Bessie) chr 1668 Maughold

Generation No.2

ROBERT CALLOW JR. (ROBERT CALLOW) was born 1657 in Isle of Man G.B.. He married JONEY CORKILL.
Child:
1) Gilchreest (Christopher) CALLOW, b. 1682, Maughold(1683-1735) m 1713 Jane Kerruish d 1742.
2) Mary m Wm Corkill
3) Will (no record except in will) in Dublin in 1716
4) John (no record except in will) in Dublin in 1716
5) Joney? ( no record except in mother's? will) no mention of a son Robert

Generation No.3

CHRISTOPHER (GILCHRIST) CALLOW . He married
JANE KERRUISH November 14, 1713 in Parish of Maughold.
Child:
1)EWAN (HUGH) CALLOW, b.1722. Maughold (1717?-1763) m Isabel Mylcarane
2) William (abroad in 1745)
3) Christopher chr.1725?-1745 (1725 christening not on IGI).
4) Robert chr. 1728
5) John (1730-1832) m Elizabeth Teare (1740-1825)
6) Phillip chr. 1732 buried 2 Nov. 1732
In addition Robert (1715-1716), Ewan (chr. 1717 assumed to have died in infancy), Jon (chr. 1719 assume to have died in infancy) and Christopher chr. 1720

Generation No.4

EWAN (HUGH) CALLOW was born 1722. He married ISABEL MYLCRAINE.
Children:
1) Jane chr. 7 Aug. 1743 Maughold
2) Catherine chr. 5 Feb. 1744 Maughold died 1809 (not on Lawson's index)
3) William (1747-1809) m Christian Christian (1749-1837) in 1772. William sold off Ballerterson in two parcels.(They had 11 children)
4) Robert (1751-1831) m Isable Christian of Ballaterson in 1789
5) Christopher chr. 1757
6) Isabel , b. 1758.
7) Jane chr. 1761 left a will A 1840 (not transcribed)
In addition Thomas chr. 1754
Generation No.5

ROBERT CALLOW was born 1751 in Maughold. He married ISABEL CHRISTIAN.
Children:
1) Catherine Callow,b. November 1791, chr. 1791 m William Cowin
2) William Callow ,b &chr. 1794 m Margaret Stephen 1821 (Radcliffe has William Callow m Jane Quayle 27 Aug. 1820 Braddan)
3) Ewan (Hugh) Callow,b. December 1796. m Margaret Christian 19 May 1822 Their only son John Callow chr. 9 Dec. 1822 Maughold (John, Ewan, Evan Huan and Hugh were interchangeable). This Hugh (John) Callow,b 1822, m Margaret Crowe 25 Dec.1847 Lezayre. They apparently moved to England after 1864. children of Hugh Callow and Margaret Crowe 1) Elizabeth Mary Callow chr. 14 Oct. 1849 Maughold 2) Margaret Ann Callow chr. 22 Aug. 1852 Maughold 3) Isabella chr. 12 Sept. 1855 Ramsey 4) William Henry Callow 8 May 1859 Maughold (parents Ewan Callow and Margaret Crowe) 5) Evan John Callow chr. 14 Dec. 1860 Ramsey (parents Hugh Callow and Margaret Crow) 6) Edward Callow chr. 26 June 1864 Maughold 7) Susannah Margaret born 2nd quarter Prescott, England 8) Harriet Callow born 2nd quarter 1872 Prescott, England Hugh Callow age 59 a coal miner and family are on the 1881 British census. His wife Margaret and 4 youngest children are with him.
4) Isabel, chr 1801
Generation No.6

WlLLIAM CALLOW was born 1794, and died Unknown. He married MARGARET STEPHEN 1821.
Children:
1) THOMAS CALLOW, b. November 3,1822, Isle of Man G.B.; d. 1906, Isle of Man
2) JAMES CALLOW, b. August 7,1825.
3) WILLIAM CALLOW, b. October 5,1828.


Generation No.7

THOMAS CALLOW was born November 3, 1822, Andreas, Isle Of Man G.B., and died 1906 in Isle Of Man G.B.. He married ELIZABETH KNEEN Unknown.
Children:
1) Elizabeth Margaret b. November 1841,chr. 1840?, m Joseph Hampton 12 May 1866 Braddan
2) Thomas Callow chr. 1842 -1813 will 1913 not transcribed
3) ANNE JANE CALLOW, b. January 25, 1846, Ramsey , Isle of Man G.B.; d. May 17, 1928, Napa,California.
4) William James Callow chr. 6 Sept. 1848 Andreas m 7 Dec. 1870 Cuyahoga to Matilda Cain
5) Robert Callow chr. 1851 buried 30 June 1854 Andreas age 3
6) John Callow chr. 1853 d 1873 age 19 no will.

Generation No.8

Child of ELIZABETH CALLOW and JOSEPH HAMPTON is:
R. Q. HAMPTON, b. Unknown, Isle OfMan G.B.; d. Unknown, Isle Of Man G.B..

ANNE JANE CALLOW was born January 25, 1846 in Ramsey , Is
Man G.B., and died May 17, 1928 in Napa, California. She married SILAS SKINNER February 24, 1870 in Kirk Andreas, Isle Of Man, son of WlLLIAM SKINNER and CATHERINE FARAGHER.


Notes for ANNE JANE CALLOW:
Anne Jane Callow was born and raised to young adulthood in Balla Callum, on the Isle of Man. Under the protective wing of an uncle who was a sea captain, Anne Jane immigrated to America and joined her grandparents in Ashtabula, Ohio. Under tutelage of an aunt, Anne Jane became a very proficient and widely
known seamstress and opened a very successful millinary business. She became reacquainted with Silas Skinner, whose family had been close neighbors in Andreas, IOM when he took time from his seafaring duties
to visit family and friends in Ashtabula. Family lore has it that Annie and Silas became close friends and that soon a romance developed. Silas,
however returned to his seafaring ways and the relationship was put on hold. During this time Silas had left his ship in San Francisco having heard of the discovery of gold in Idaho. He with a friend and a couple of burros to
carry their supplies walked from the Nevada gold mines to Idaho City Idaho over the winter and arrived there in the spring.
In time Annie sent word to Silas that she had other "opportunities" and that he had best decide on his priorities. Soon after that plans were made for a return trip to the Isle of Man where Silas and Annie were married in Andreas.
.

DEATH NOTICE OF MRS. ANNIE CALLOW SKINNER (Copied by Esther Emmel from Skinner Family Bible, July 2009)
DEATH OF MRS. ANNIE SKINNER IN CALIFORNIA (Ramsey Courier--May 25, 1928)
News has just been cabled tht Mrs. Annie Skinner, of 2332 Haste Street, Berkeley, California, U.S.A., died on Thursday last, Mary 17th. The deceased lady had attained the ripe age of 81, and for some time past had been in failing health. Mrs. Skinner was a daughter of the late Capt. T. Callow of Ballacallum, Andreas, and left the Island with her grandfather in 1865, being then 18 years old; she remained in Cleveland, Ohio some six years, making many friends, of which some are still living there, and there she also met her future husband, Silas Skinner, also born in Andreas, but who had adventurously left the Island when nine(?)*Note: years old, and made his way by sailing ship to America, there to join in one of the early gold rushes to the Nevada fields.
They arranged to return to Kirk Andreas, to be married in the Parish Church in 1871, and after a short holiday they went back to the States, to Silver City, Idaho, where Mr. Skinner had mining interests.
Later they removed to Napa, Clifornia, and after Mr. Skinner's death, his widow and her family removed to Berkeley, the University town across the bay from San Francisco
. The late mrs. Skinner was one of the best known Manx residents on the Pacific Coast, and her home was the meeting place for Manx people in the neighbourhood. She made many trips to the Island the last being in 1913-14, and has many relatives here. A daughter of Mrs. Skinner is married to Mr. R. Q. Hampton, Cronkbourne Road, Douglas; her sole surviving brother, Mr. Robert Callow, Chief stevedore for the Steam Packet Company at Douglas, and Captains John Callow (harbour master), James Callow (6 Lezayre Road), Mr. Alfred Callow and Mrs. Quileash of May Hill, are nephews and nieces of the deceased lady.
Mrs. Skinner left two sons and two daughters resident in the States and also numbered in the families, 16 grandchildren and ten great grandchildren as her descendants.
----------------
Silas, was born 15 June 1834. According to IDAHO YESTERDAYS, Spring 1966, by Stacy Peterson. p. 14. "Silas Skinner arrived in Sacramento from the Isle of Man in the Fall of 1862, a mariner on a British ship whose name and business is now forgotten." He would have been 28 when he came to U.S.
**************

DEATH NOTICE OF CAPT THOMAS CALLOW- (Copied by Esther Emmel from Skinner Family Bible, July 2009)
DEATH OF CAPT T. CALLOW
(Brother of Annie CALLOW SKINNER)
We regret to record the death of Capt.Thos. Callow, one of the most esteemed
and best known residents in Ramsey and the North, which took place at Handley
Terrace, Bowring Road, on Wednesday, at the age of 70 years. Capt. Callow has not enjoyed good health for some time, but was now and then able to get out. However, some five weeks ago he was taken seriously ill, and in spite of the best medical attention, constant care, and careful nursing, he gradually became worse, and "crossed the bar," as stated, on Wednesday.
Capt. Callow was born at Ballacallum. and was a son of the late Capt. Thomas
Callow, whose death occurred some years ago. At an early age he developed a
a liking for the sea, one of his first experiences in that direction being with his
father on the well-known schooner Gem, of which he eventually became master.
Capt. Callow was not slow in proving his ability as a seaman and navigator, and,
blessed with any amount of energy and pluck, he determined to make the most
of his opportunities. Seeing this, a, syndicate of Ramsey gentlemen had built
for him at Barnstaple in 1876 the clipper schooner Snaefell, which was in her time
reckoned as the last word in coasting vessels for speed and handiness. In those
days steamers were a deal less plentiful than they are now, whilst sailing vessels
were sailing vessels in every sense of the word. Capt. Callow had as his contemporaries such capable seafarers as the late Capt. Edw. Garrett (Empress), Capt. John Clarke, Harbour Master (Wizard), Capt. D. Cleator, and others, and records for speed and quick dispatch were put up on nearly every voyage. It was no uncommon thing for these vessels then to be away from home for months at a time, whilst trips to the Baltic and other foreign parts were frequent. After a successful career and one remarkably free from accident, in the year 1886, Capt. Callow retired from the sea, and started business as a coal merchant. He purchased the three masted schooner Eclipse, and also became owner of the schooners Kitty and Trial, these vessels being fully engaged in the coal traffic. As a result of honesty and straightforward dealing, Capt. Callow built up an extensive and prosperous business, which he relinquished about two years ago, in order to spend
the remainder of his days in quietude. In his business affairs, he was greatly assisted by his wife, who survives him, and who managed his extensive coal trade with great ability.
The late Capt. Callow was a prominent Oddfellow being one of the first on the
books of the Good Anchorage Lodge. He was also a regular attender, up to the
time of his illness, at Church and Chapel, and was ever ready to assist in any good
or charitable cause. Capt Callow was of a kindly and genial disposition, was most interesting to converse with, and his demise is mourned by a large circle of friends, who join in extending their sympathy to the bereaved family.
Capt. Callow was twice married, and had issue by his first wife: Mrs Cameron,
wife of Mr John Cameron of Pooldhooie House, Bispham; and Capt. J. T. Callow,
Assistant Harbour Master at Ramsey. By his second wife, who survives him, there
is issue: William, in Manchester; Capt. James Henry, chief officer the White Star Liner Corinthic: Alfred, carpenter on board the White Star Liner Adriatic; Fred. in the Harrison Line ; Mrs Quilleash, Ramsey; and Mrs J. T. Kerruish, in Western Australia.
The interment took place to-day (Friday) at Andreas Churchyard, and was attended by a large number of persons of town and country, including rnany associated with maritime affairs.

**************